STEPS TO DISCIPLESHIP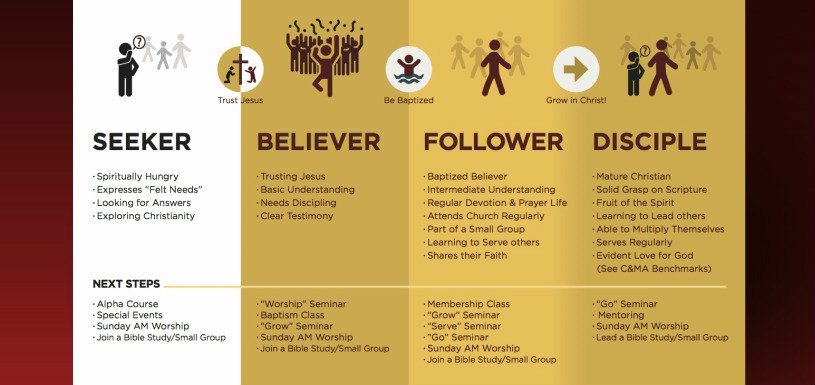 INTRODUCTION
For believers in Christ, the journey towards spiritual maturity is not optional. However, because we are unique and our life situations are different, we don't all have to pursue this journey in the same way. At Trailview, we offer three distinct ways of helping people in their journey towards spiritual maturity. You can begin by choosing the pathway that best suits your personality and life situation at this time, or you can choose to participate in each one of them if you have the time and inclination to do so. You are most likely familiar with each of these types of pathways from other journeys you've taken. We've simply adapted them for the purpose of being intentional in helping us make progress in our journey towards spiritual maturity.
TOUR OPTIONS
These are the options available to you through Trailview to assist you on your journey with Jesus. We aren't forcing any of them on you, but we do want to help you to make progress. There's always room for another traveller who would like to join us on the journey towards spiritual maturity. If you would like more information on any or all of these steps, please call or email me (Pastor Mike) and I'll do everything I can to help you take the next step that suits you best.
Many people journey with other family and friends. Many people have discovered that journeys are often more fun and less intimidating when taken as a group instead of alone. They help us see things we might otherwise miss and help us to keep on track instead of getting distracted. At Trailview, we encourage this kind of journey through what we call "Growth Groups." These groups meet regularly in homes and share their journey with Jesus together. These groups allow participants to interact and grow together. Growth groups are a great way to develop a stronger relationship with both God and others, and we encourage everyone to participate in this pathway.
For more information about how to get connected to a growth group, please call the church office (306-773-4433) or fill out the form below
When travelling somewhere you haven't been before, many people have discovered the value of touring with a knowledgeable guide. Such a guide can help provide insights you would otherwise never get. In addition, trying to organize regularly scheduled times together, as important as that is, can be very challenging for some people. As a result, they have to schedule their travel plans based on the time that works best for them.
At Trailview, while we encourage everyone to participate in a growth group, we realize that may not work for everyone. That is where the guided tour concept is helpful. We offer the same content in a condensed form on a weekend seminar. These seminars are offered annually, and while they cannot replace the relationship component of the growth groups, at least it helps people to gain the essential truths that Jesus expects all His followers to put into practice. You can find out more on our upcoming seminar's here:
The problem with most tours is that they are only temporary. In contrast, the journey towards spiritual maturity is intended by God to be a continuous journey that lasts a lifetime. That is where the concept of the self-guided tour is helpful. You've probably encountered a trail where you pick up a brochure that highlights significant markers along the journey. In a similar manner, we offer a self-guided resource that will help people to be intentional about making their journey towards spiritual maturity a daily experience.
Pastor Mike has written a resource called Reflections: A Devotional Companion to the Bible. This resource contains a brief reflection on each chapter of the Psalms and is designed to help people better understand and apply the truths of God's Word to their daily lives.
For more information on how to obtain this resource, please click on the link below
MORE INFO
SELF-GUIDED TOUR RESOURCES