Weekly Activities
Tuesdays at 10am, women gather at Trailview to pray for missionaries around the world
Thursday mornings at 9:30, women gather at Trailview for Bible study
Tuesdays at 7pm is womenconnect night, which is full of activity!
The first Tuesday of every month is womenconnect Deeper, which is a discussion of various tough topics such as depression, anxiety, and boundaries in relationships, led by social workers and registered psychiatric nurses. This will take place in the overflow room.
The rest of the Tuesdays in the month will offer both Bible study or a workout. The Book of Esther will be studied in Room 4 while a workout class will be led in the gym. Pick your favorite option! There are no Bible studies or workout sessions on the first Tuesday of the month when a Deeper session is being held.
The womenconnect DEEPER February session will look at boundaries and codependency in relationships. It will happen in the overflow room on Tuesday, February 4 at 7pm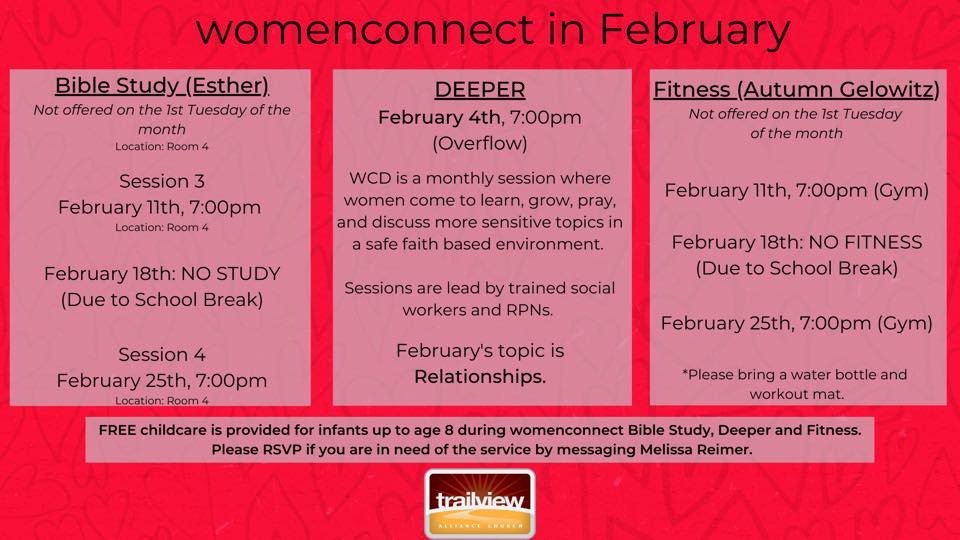 Are you interested in being a part of Trailview's Women's Ministry?
Let us know how you want to be involved or what you would like to see happen: